When trying to learn vocabulary, whether it's for a language, math, or tests, like SATs, a great way to practice is by using flashcards. Today's technology has taken us to a whole new level. We can now create interactive flashcards right on the internet. Most kids like using the internet, some prefer it. And most can figure out how to use software and websites very easily. It's almost second-nature. Well, SpellingCity is an easy-to-navigate site that we use to create our own flashcards. These online talking flashcards help the kids practice spelling, learn definitions, the use of the word in a sentence, part of speech, antonyms and synonyms. As an added bonus, you can even print the flashcards.
My son is using the
math flashcards
for Geometry this year. Last year he used them for Algebra and Latin. My older daughter uses the SAT vocabulary lists. My youngest daughter uses it for science. SpellingCity has vocabulary lists for books. If I can't find one for the book she's about to read, then I create a list for her. This helps her with reading comprehension as she reads the book because she's already familiar with the words that would otherwise be new to her. Because she's been practicing these words with the flashcards, she knows the definitions.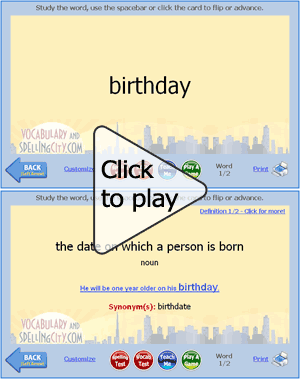 There are
vocabulary games
or
parts of speech games
online that my kids often use and enjoy, but the advantage to the SpellingCity flashcards is that we can create our own vocabulary lists. This is particularly helpful when studying for unit tests, a particular lesson or preparing to read a selected book.
What do you use to study vocabulary? What works best with your children?